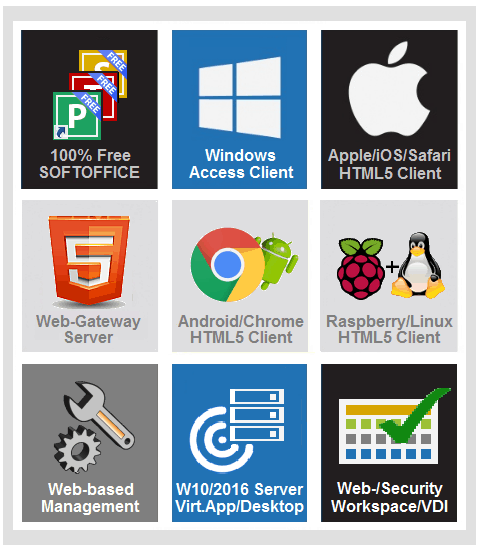 SOFTKLIX PRO (enhanced endpoint device support)
Introduction
SOFTKLIX PRO is an integrated, easy to install and easy to use Windows software virtualization platform. Deliver virtual applications and desktops from various Windows server- and as well desktop operating systems (refer SOFTKLIX PRO system requirements) to any Windows 32-/64-bit endpoint device (client) and other endpoint devices thru a HTML5 compatible browser, while strengthening data security, reducing costs and increasing user productivity. The package automatically includes a driver-less LAN or Cloud Printing system that allows you to print from any Windows (XP and higher) endpoint device and as well over your HTML5 browser.
SOFTKLIX – 3-in-1 Virtualization a la carte – choose yours!
While other suppliers license their products individually and charge extra each time, SOFTKLIX offers you the best product with the best price-performance ratio on the market.
SOFTKLIX comes with a 3-in-1 virtualization solution:
– Windows Applications Virtualization (for many users, sharing)
– Desktop virtualization (for many users, sharing)
– Exclusive Windows Desktop Virtualization (one user for a remote and physical
Windows PC or a Windows virtual hypervisor image
Finally the administrator decides, depending on available resources and the real needs of the user, which is the best approach for the particular user or organization. There is no other to us known vendor, who manages and offers these three unique ways of Windows virtualizations, as SOFTKLIX PRO does.
Freedom of Choice
SOFTKLIX offers your organization the ability to manage and use virtual application and desktop servers in different ways and across many different cloud service providers. There is no vendor dependency.
Scalability
With SOFTKLIX PRO is the industry's leading solutions for Windows application and desktop delivery. SOFTKLIX PRO enable secure, remote access to Windows applications and desktops from any Windows device, over any network (cloud/on-premise or both in a hybrid way over multiple installed servers).
Flexibility
SOFTKLIX PRO address a broad range of use cases by delivering a full desktop or just applications based on an individual employee's role or Windows device. A rich set of capabilities and a flexible architecture enable IT to be more agile in meeting the needs of a rapidly changing workplace. SOFTKLIX PRO is a flexible virtualization solution that can run on or across multiple virtual (hypervisors, e.g. hyper-V, KVM etc.) and/or physical servers and clusters. Its your choice, which Windows operating system you are using, we are supporting the following Windows Server Editions: 2012R2/2016, but as well the following Windows Desktop Editions: W8.x-64 (Pro and Enterprise) and W10-64 (Pro and Enterprise).
BYOD Scenarios
SOFTKLIX PRO and BYOD scenarios enable IT to deliver on-demand apps and desktops to any Windows device (XP-SP3 and higher). This gives the user the freedom to use the latest and greatest technology without requiring IT to support new hardware, making it easy to securely enable enterprise BYOD initiatives.
Security
SOFTKLIX PRO reduce the risk of data loss and prevent unwanted intrusions by securely delivering access to business applications on demand to any user based on location and device specific features and security configurations.
User experience
SOFTKLIX PRO and its RAP (Remote Access Protocol) technology delivers a superior, high-definition user experience on any Windows based endpoint device. RAP PRO goes beyond any competing solution, ensuring employees have a native-like experience wherever they are.
Web-Login and Web-Workspace
Users access their applications and desktop through the Web-Workspace after passing the Web-Login security portal. A modern, unified and logically designed web interface is offered, which provides the user with exactly the applications and tools he needs and which the administrator has preset for the user in the Deployment Center. There are no more training or Windows skills necessary. Here you find a list of all Web-Workspace features and functions (Link).
Deployment Center Server and Management
The Deployment Center is for the administrator who wants to directly change and distribute everything at a glance and in quick access. Depending on the number of licenses purchased, any number of users can be created or synchronized from existing Active Directory servers in seconds.
The Deployment Center Management tool centrally manages all your virtual SOFTKLIX licenses, multiple application servers, virtual desktops (VDI Windows Computing), a large number of Windows users, any applications on their servers, groups, assignments and system settings.
The design and interface is very easy to use because intuitive. Technically from there you manage all Applications, which you have once installed at your Windows servers. Windows itself is no more necessary to touch. No training is necessary. Set-up properly, administrators can also remotely manage and maintain many servers at different locations from any endpoint device over the internet. Here you find a list of all features and functions of the Deployment Center Management tool (Link).
Scope of delivery
After a proper registration and verification is a licensing and latest release for your SOFTKLIX PRO software are downloadable via the SOFTKLIX user portal available.
Included in this SOFTKLIX PRO annual subscription user-based license are:
Server for Windows Desktop and as well Windows Server drivers
Windows Access Client embedded into the SOFTKLIX Web-based Login
Web-Gateway Server (extra license included) and HTML5 based Access Client
Note: This Web-Gateway server can run in conjunction on any of your SOFTKLIX Application Servers. Furthermore requirements you find here .
SOFTKLIX Web-based security Workspace
Web-based remote management Deployment Center (license server/broker) and all necessary tools to many multiple users, servers, applications, groups and more.
As well the administrator is able to download regular new releases, instructions, notes and more related recommendations.
For less trained employees, SOFTKLIX offers all organizations a discounted installation service, including a review of their server. We will send you a service form containing all the necessary steps to install SOFTKLIX PRO on your server correctly and conveniently, then hand it over to you tested.
Optional Maintenance Service

Sometimes it is simply best to manage your SOFTKLIX software with the manufacturer or a certified service partner, install updates or just check back once. For a small fee (refer to our shop), we or our service partner provide an extra service to manage your SOFTKLIX product. We will send you a service form containing all the necessary steps.